TAKE YOUR ARTISTRY TO THE NEXT LEVEL!
Vancouver FX studio teaches professional special effects makeup, airbrushing, prosthetic sculpture, mask making and prop fabrication for TV & Film. We provide a supportive and creative learning environment for artists from all backgrounds and styles.
Many of our talented students have graduated and gained employment working in special effects studios and on International TV, Film and music video productions. If you are an aspiring sculptor, makeup effects artist, cosplayer or hobbyist our classes are for you!
Classes are on weekday evenings from 7pm-10pm and weekends 10am-6pm. Enrollment is open to all Adults, College Students, and High School students.
Register online today for one of our upcoming classes or workshops!
Art Of Make-UP FX: Level 1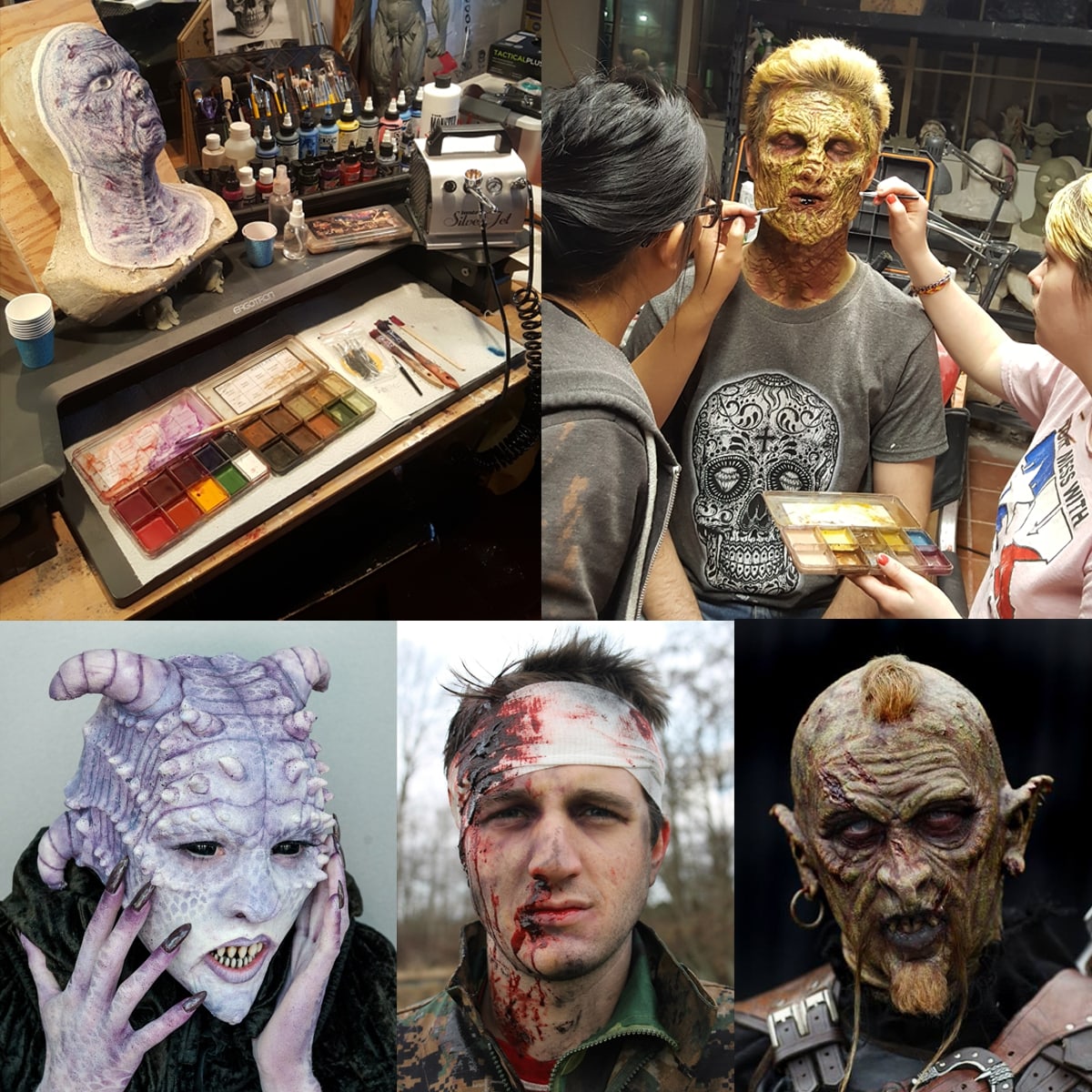 In 3 night classes FX Artist & Instructor Dallas Harvey will teach professional make-up FX techniques and show how to use a variety of prosthetics from Foam latex to 3D transfers. Students will also be taught how to paint prosthetics, and properly apply them to an actor, followed by safety and prosthetic removal techniques. Students will then create a 3D character make-up using all the techniques learned in the class.
Art Of Make-UP FX: Level 2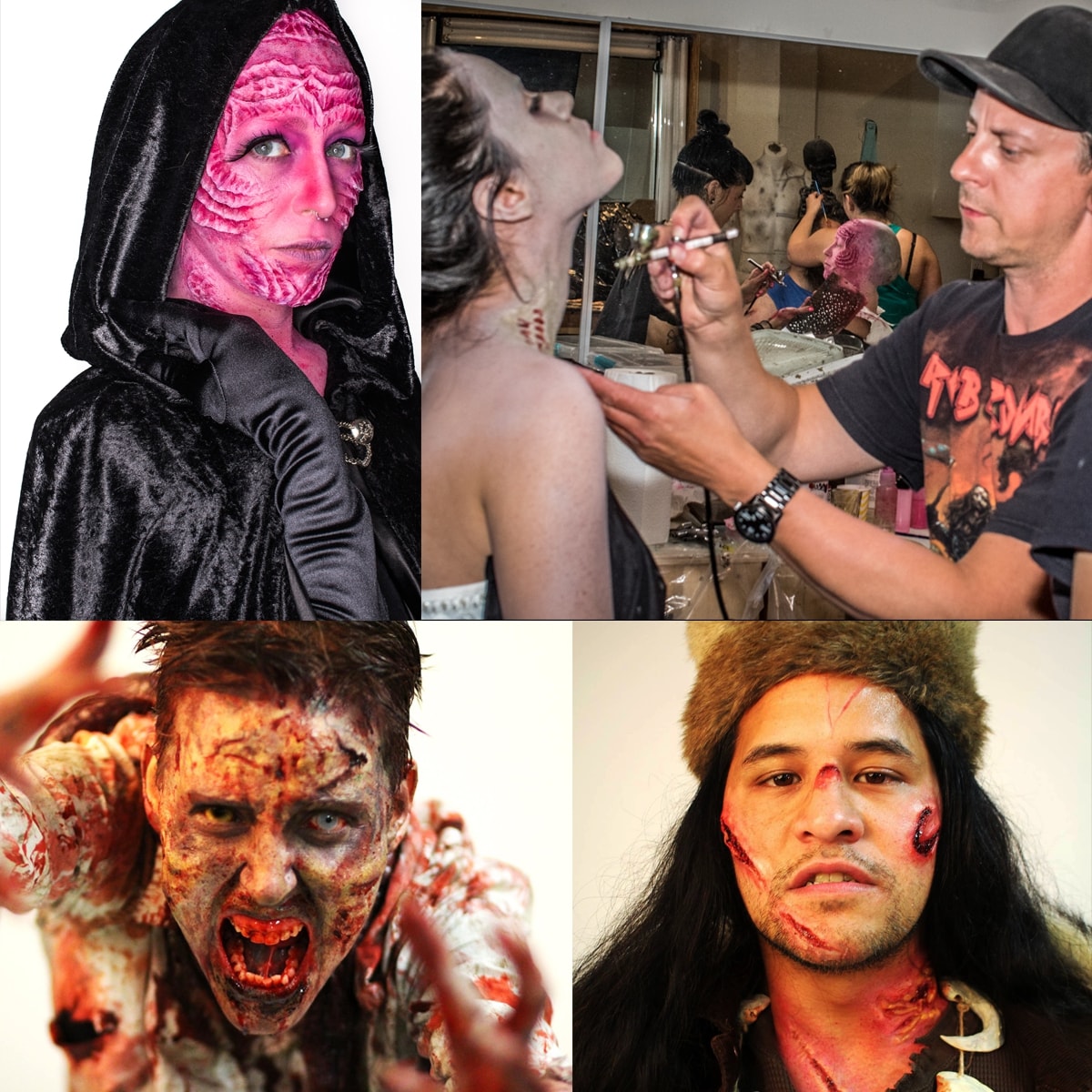 3D Bondo transfers, or Pros-Aide 3D transfer prosthetics have become very popular in recent years and are now being widely used in professional make-up FX on TV & Film. You can see 3D transfer prosthetics being used in the new Mad Max, Walking Dead, The Hateful 8, The Revenant and many others. These realistic prosthetics look terrific on stage and on screen, even in HD! Over 6 weekly classes Instructor & FX sculptor Dallas Harvey will teach students how to sculpt, mold, prepare and apply Pros-Aide Bondo based prosthetics. He will explain the materials, including Clays, Silicones and Prosthetic Transfer Material (PTM), as well as procedures, safety and the best applications for particular types of appliances.
Art Of Mask Making: Level 1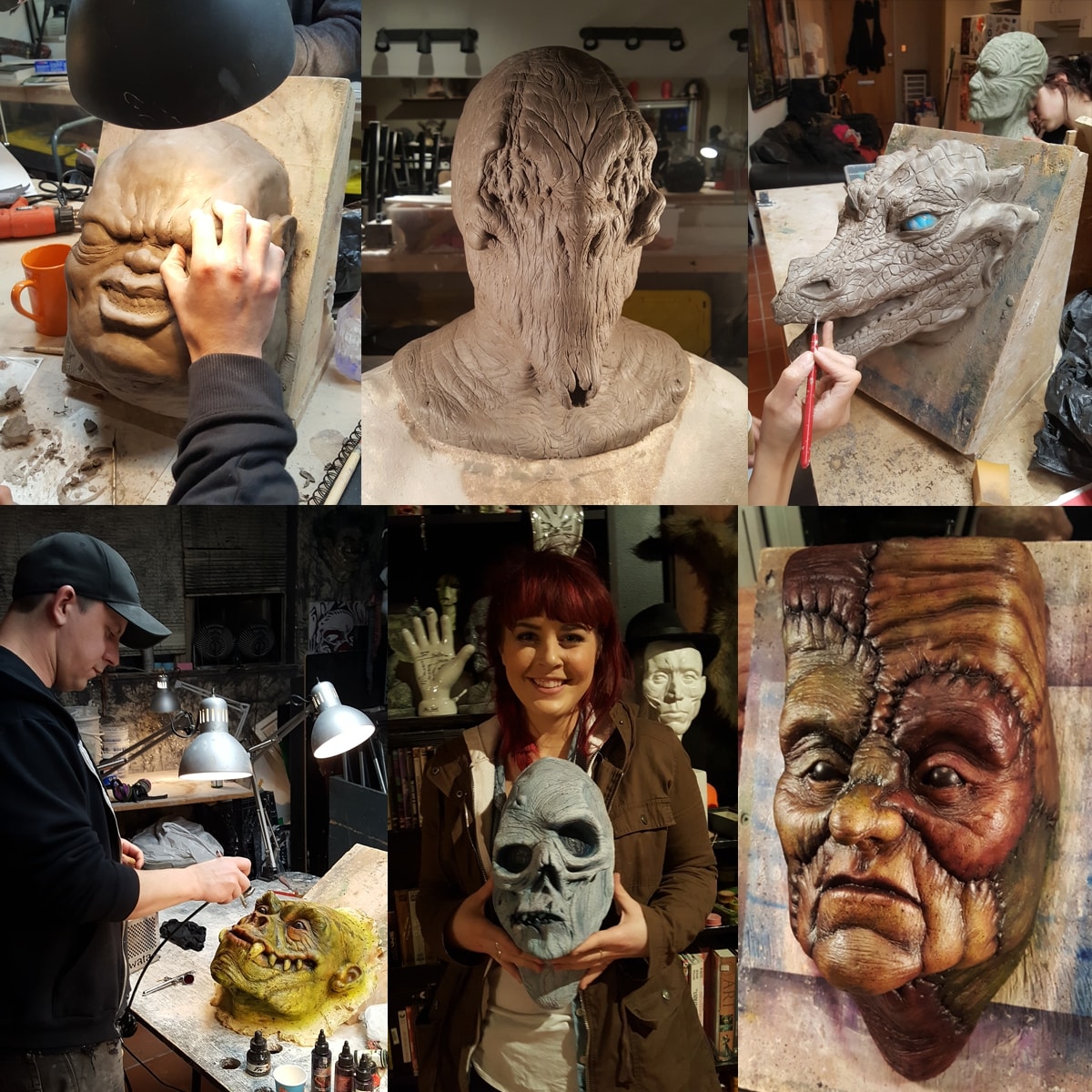 FX Artist & Instructor Dallas Harvey will take students through the process of sculpting a creature or realistic human character face mask. Students will be taught proper use of tools, materials and basic anatomy to create a detailed clay mask and then prepare it for molding and casting in rubber latex. You will then learn how to finish your mask using professional painting techniques, creating realistic eyes and teeth. Students are encouraged to sculpt and detail their face into a character design of their choosing using reference from comic books, movies, TV, animation, video games, Internet or any other design source.
Prosthetic FX: Level 1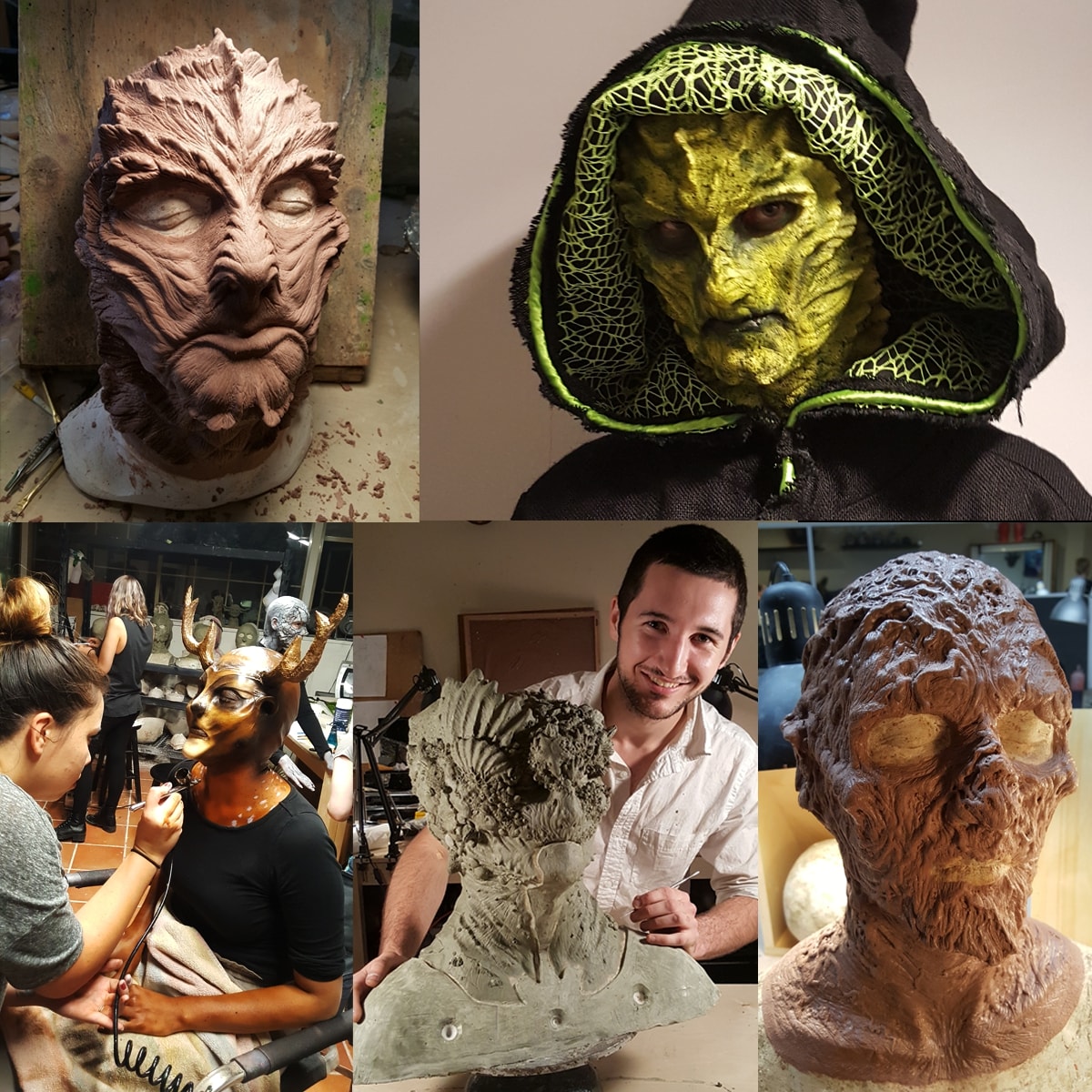 FX Artist & Instructor Dallas Harvey will teach students professional sculpting and finishing techniques to create a custom designed character prosthetic over a male/female provided human face life-cast. Students will then learn to properly mold their prosthetic sculptures in plaster. Students will learn how to troubleshoot prosthetic design complications, properly mix, cast, and bake prosthetics in foam-latex. Students will then be instructed on how to pre-paint a prosthetic, and properly apply it to a live model, followed by safety and removal techniques.
Prosthetic FX: Level 2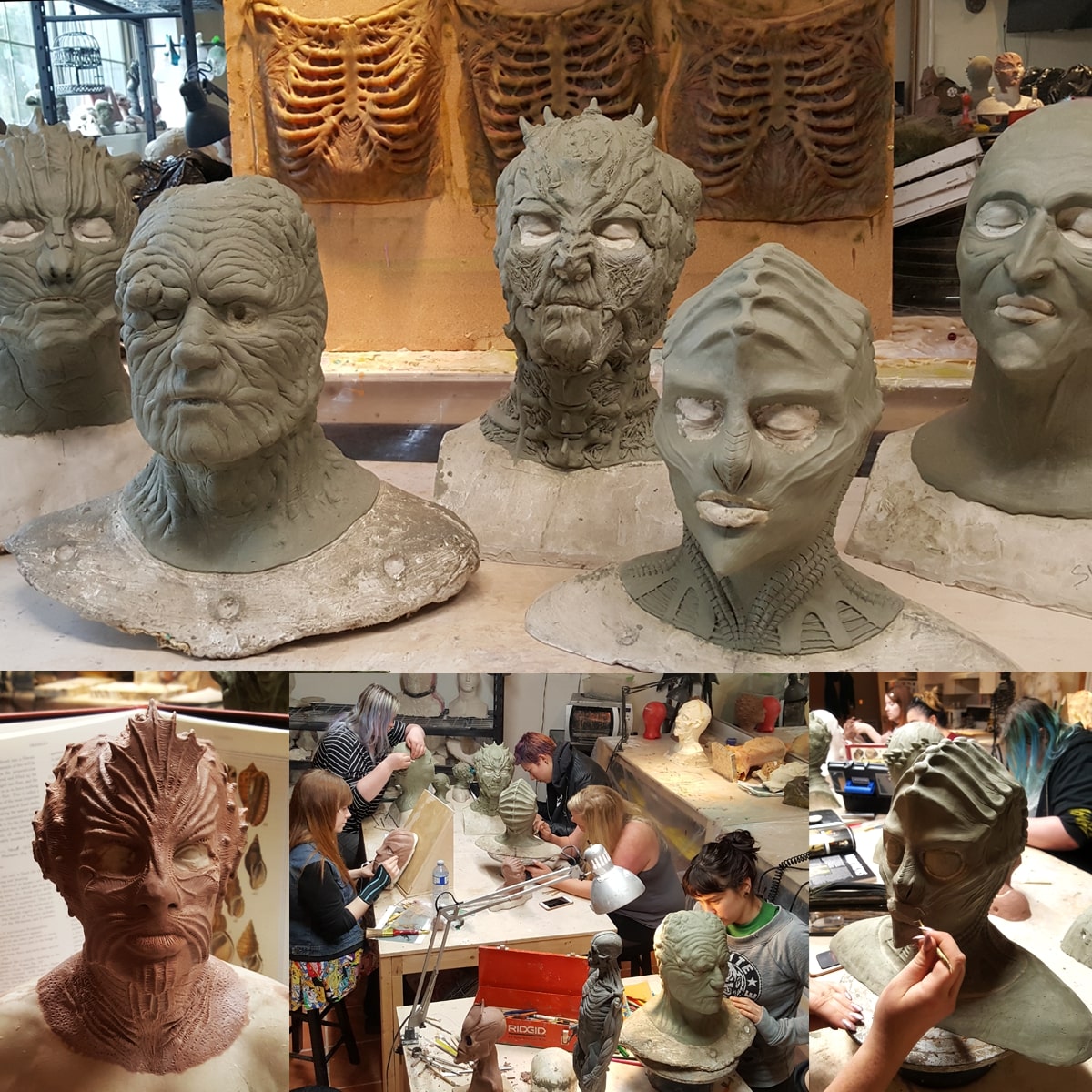 Silicone Prosthetic FX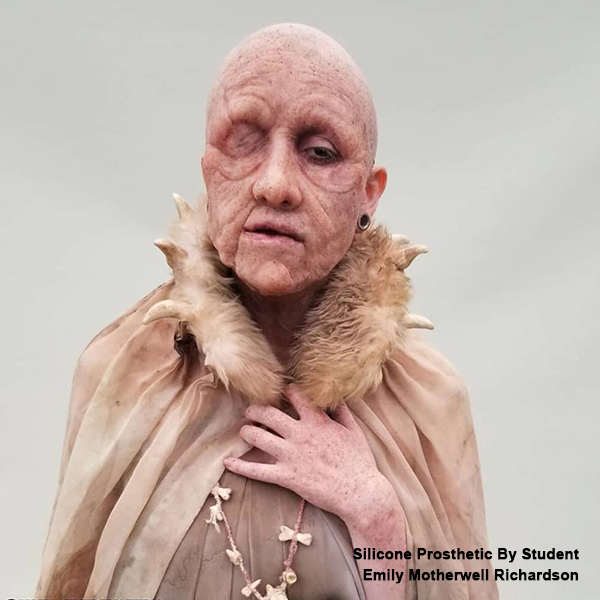 Character Sculpture & Design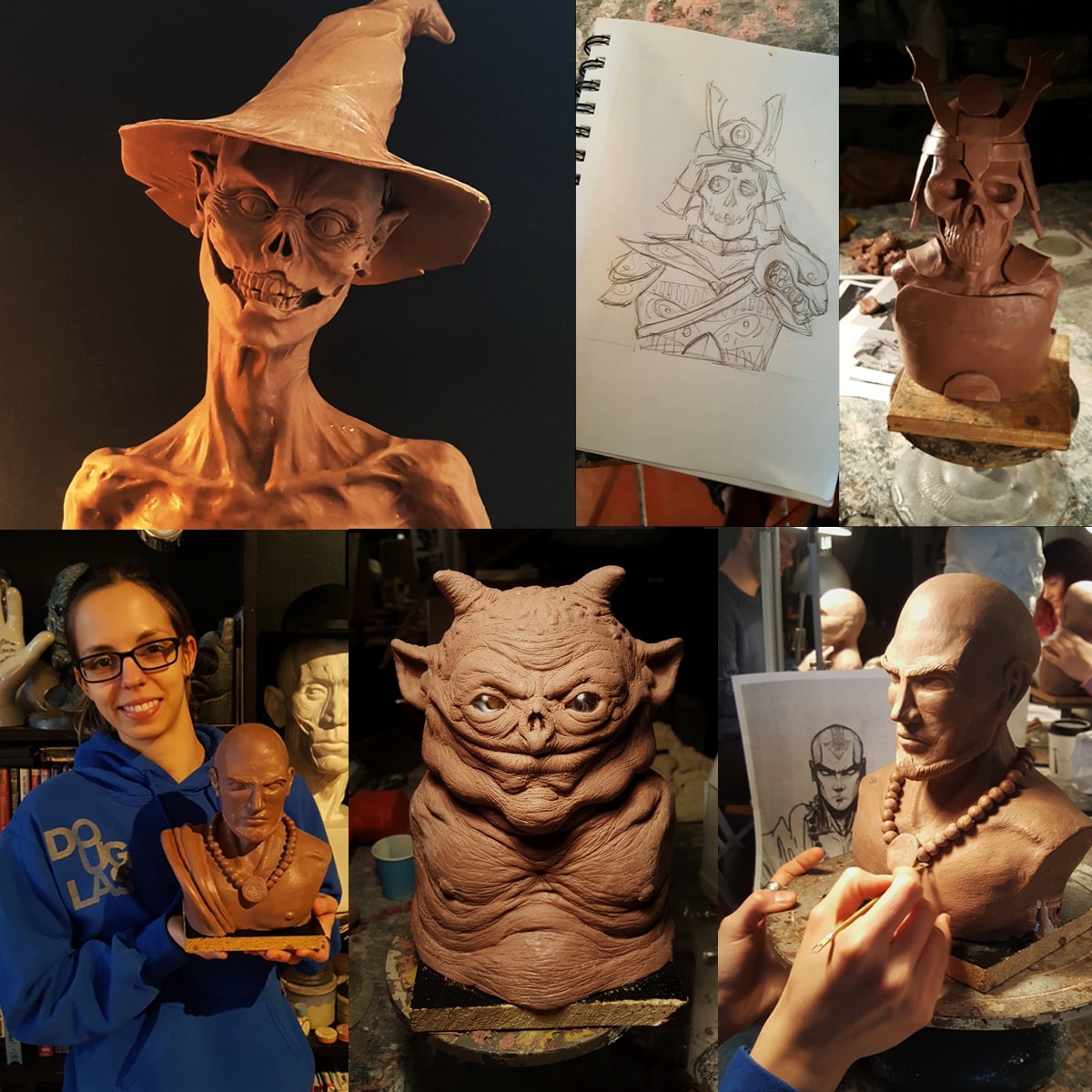 During the class FX Artist & Instructor Dallas Harvey will teach students original concept design techniques, how to use sculpting tools, build an armature and how to sculpt realistic facial anatomy. These techniques be talked about in great detail over the five afternoon classes. Students will create a detailed male or female creature, fantasy or comic character 8 inch bust. Students are encouraged to sculpt and detail their design into a character of their choosing using reference from comic books, movies, TV, animation, video games, Internet or any other design source.
Dental Acrylic Teeth FX
Forget generic store-bought dentures that do not always fit or stay in place! In this intense 1-Day Saturday workshop taught by FX artist Dallas Harvey, you will learn the professional process and techniques on how to design and create your own Creature & Character Teeth FX for film, theater, Halloween.. or just for fun. Learn how to safely take an alginate impression and casting of your teeth and gums. Create custom fitted acrylic dentures over your dental life-cast learning teeth forming and gum build-up techniques. Layer color to realistically stain and age teeth and gums.
Silicone Prop FX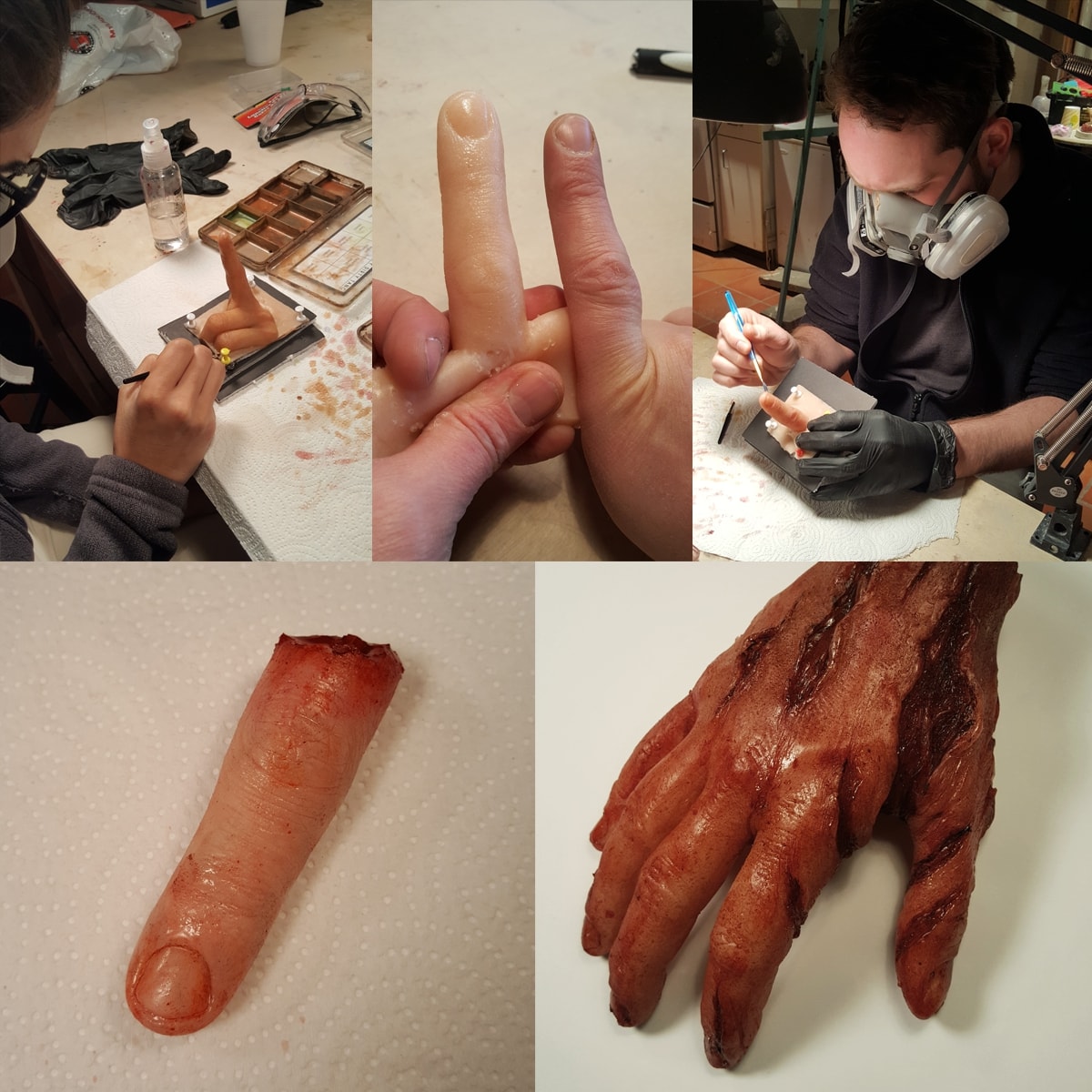 In this intensive hands-on workshop taught by FX Artist & instructor Dallas Harvey students will learn professional life-casting, silicone casting, silicone fabrication, and silicone painting techniques. At the end of the course students will leave with a realistic painted silicone prop severed finger that can be used for film or portfolio piece. This course will teach you important skills and techniques for a professional career as a make-up effects artist. This training will help you learn valuable techniques that can earn you more money, and get you more work as a professional make-up effects artist. Upgrade your skills and portfolio!
Airbrushing FX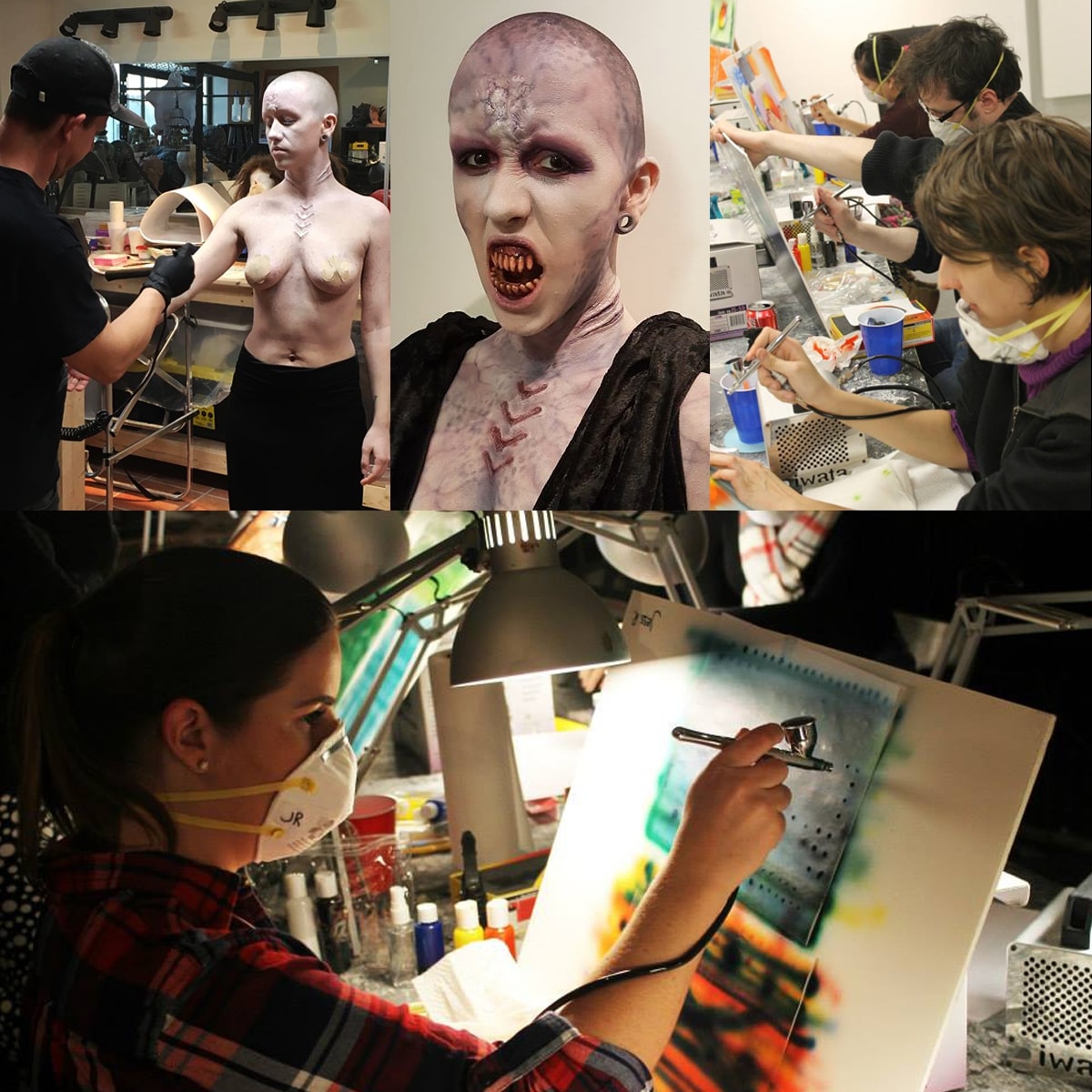 No previous airbrushing or art experience is necessary to take The Art Of Airbrushing workshop. FX Artist & Instructor Dallas Harvey will take students through how to paint with an airbrush from start to finish. Students will be taught proper use of an airbrush gun, tools and maintainance, paint mixing and stencils… plus lots of other pro tips and tricks!
Life Casting FX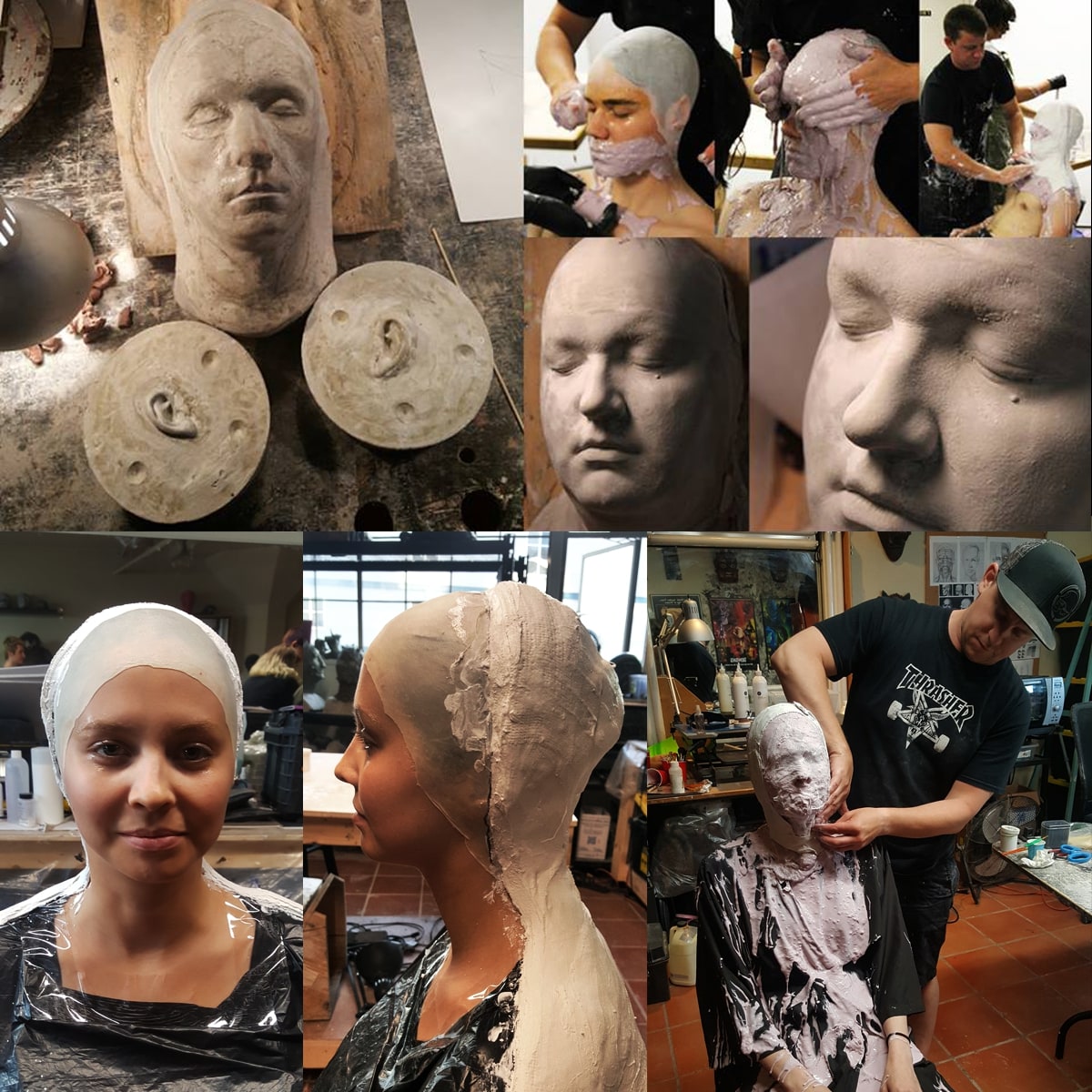 Every FX prosthetic makeup starts with a life cast. Become a self sufficient makeup artist and learn how to create life casts and snap molds in our new workshop. These techniques are a MUST know for all prosthetic makeup artists!
Blood Rigging FX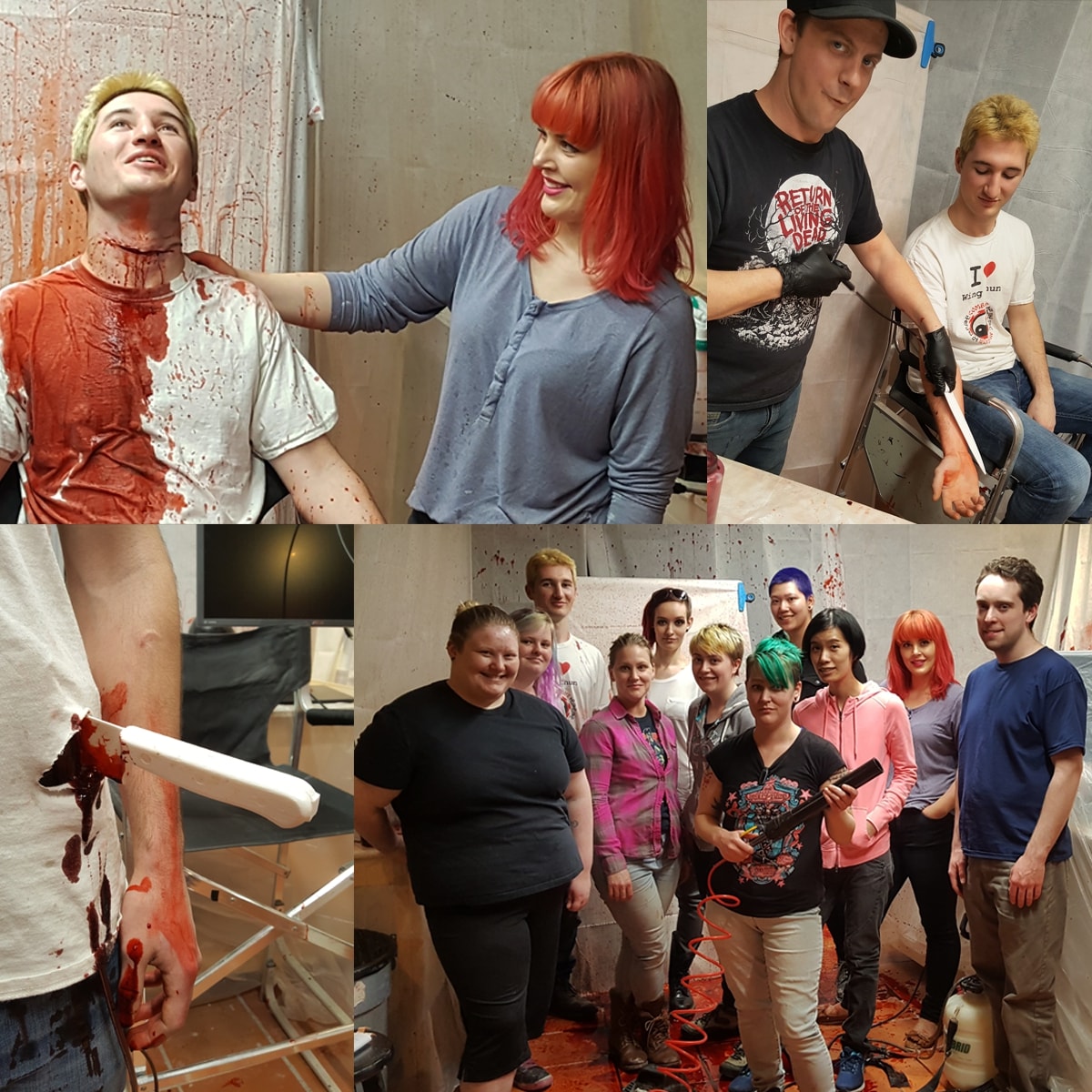 Learn how to create realistic blood rig effects in this 4 hour intensive and super gory workshop. Film industry FX artist and Instructor Dallas Harvey will show students how to re-create realistic blood hits, running blood effects using applied prosthetics, slit throats and other gore effects used in film. Learn how to rig up a wide range of blood delivery methods from simple syringes to full on blood cannons with guts & brain matter! This class is going to get BLOODY!!!!
Creature Painting FX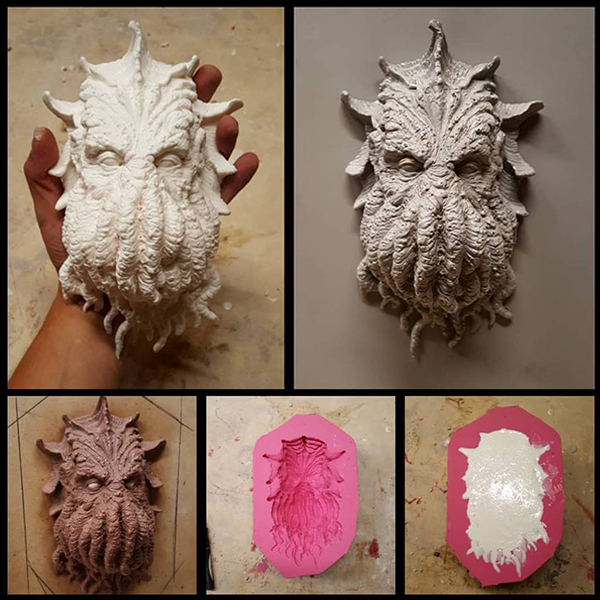 Learn how to mix, pour & cast silicone and resin, demolding the resin cast and preparing it for painting. In addition, students will learn custom airbrush and hand painting techniques including how to create painted eyes and other pro techniques. All students will leave with their own custom painted copy of "Cthulhu" cast originally sculpted and signed by the Instructor. Makes a great wall display piece when finished!
3D & Virtual Sculpting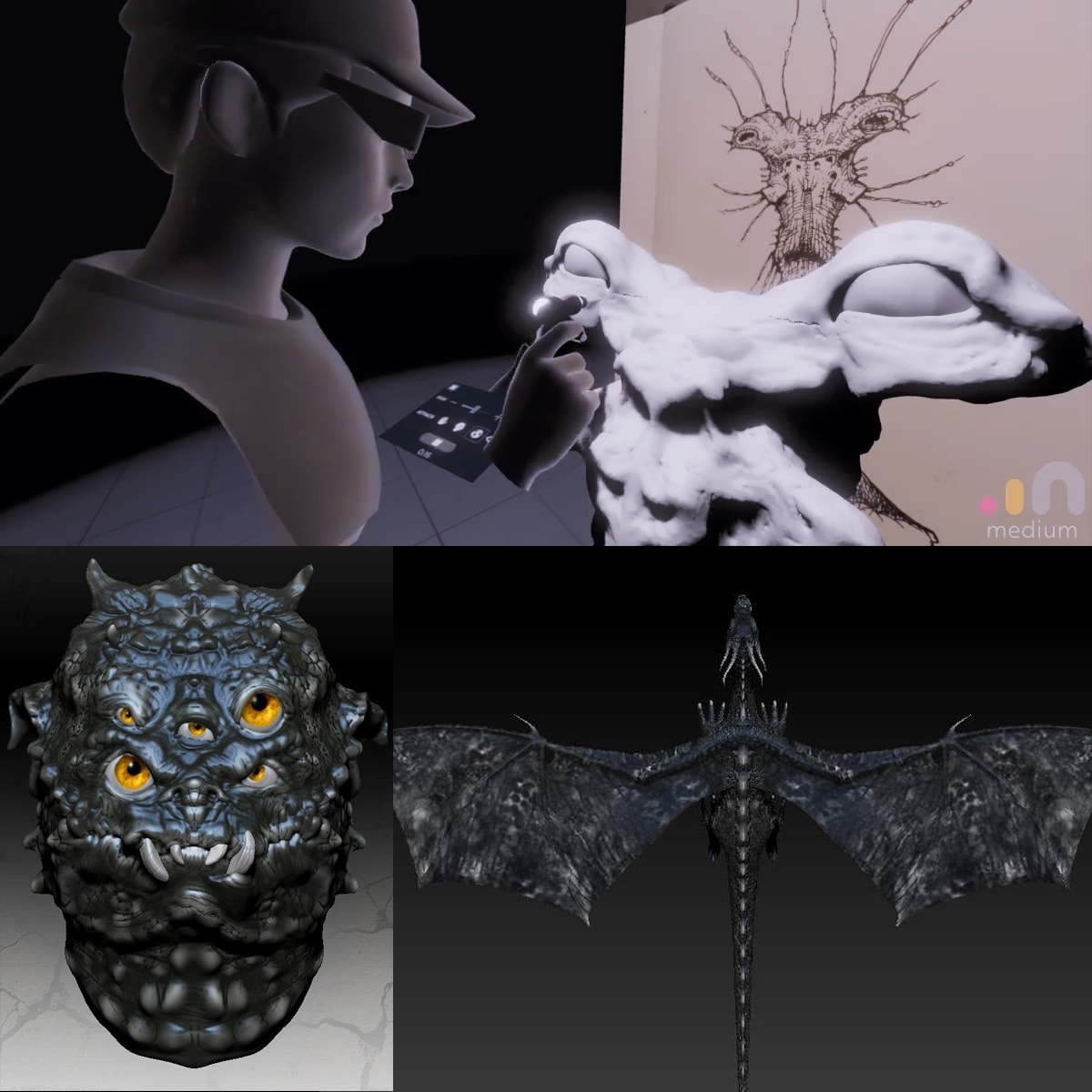 In this 4 hour intensive workshop film industry Instructor and FX artist Dallas Harvey will teach students the ins and outs of Virtual concept design using VR sculpting program Oculus Medium. This is a beginners workshop no experience required! Get hands on experience in the program and learn how to use concepts created for pitching ideas and prototypes to clients and productions. Quickly design multiple concepts, create revisions on the fly and use the final VR airbrush painted images for sculpting your practical prosthetics or film props. Get a head start with this new emerging technology!