Take Your Artistry To The Next Level At Vancouver FX!
Vancouver FX is a privately run production studio and training facility providing a supportive and creative environment for artists from all artistic backgrounds and styles.
Vancouver FX offers weekly classes covering special effects make-up application, prosthetic character creation, anatomy and artistic sculpture, mask sculpture, mold making, hand-painting and airbrushing, life casting, concept design and more.
Whether you're an aspiring artist looking for a place to begin or a growing artist looking to advance your skills even further, classes at Vancouver FX can provide you with the tools, techniques, and guidance to help you reach your creative and artistic goals!
Enrollment is open to all students 18 years or older. We accept Canadian and International students.
Have questions or want to talk with one of our Instructors? Contact Vancouver FX by phone, (778) 968-4776, or email at info@vancouverfx.com
Check out our amazing FX student work and lots of pictures of our in-person studio classes on Instagram HERE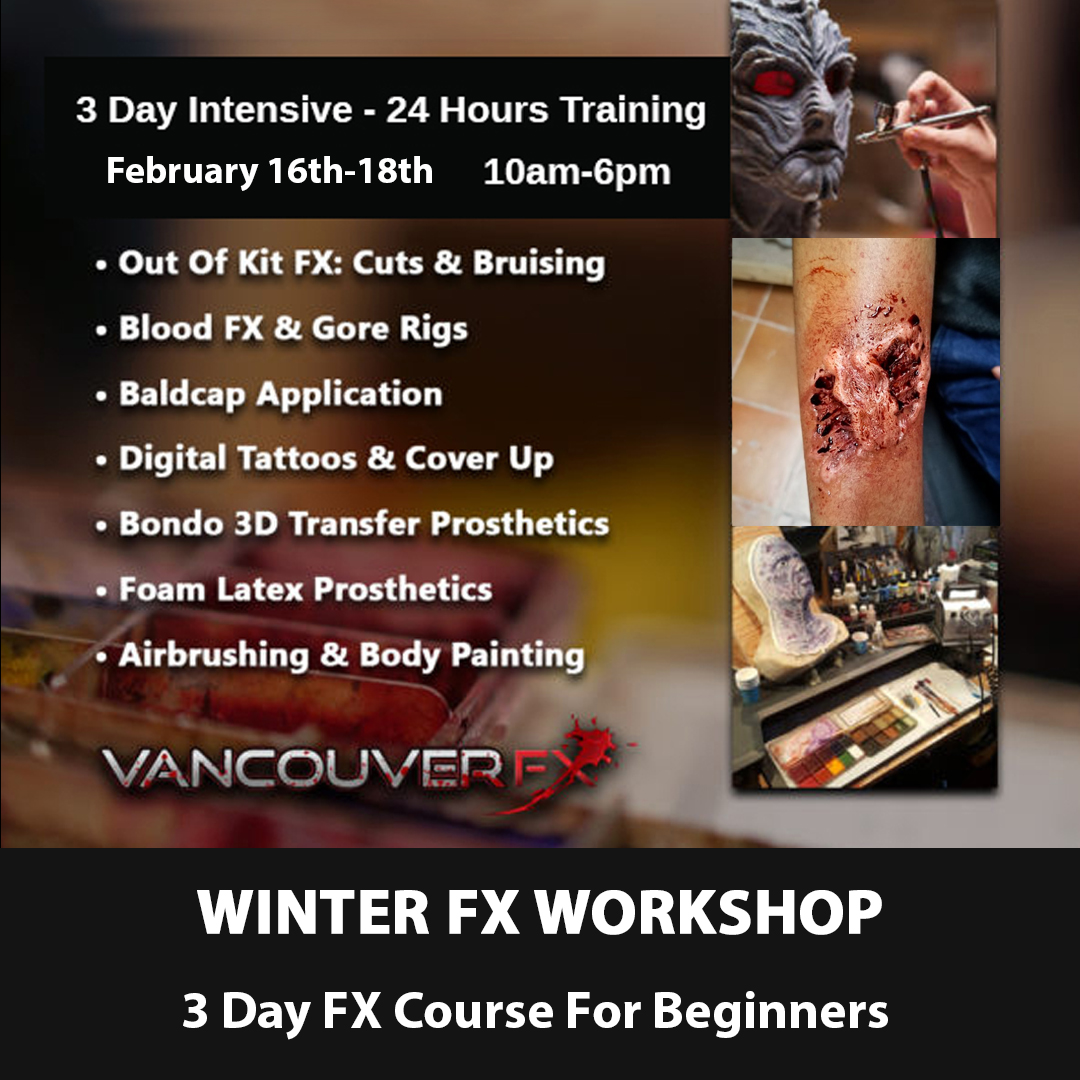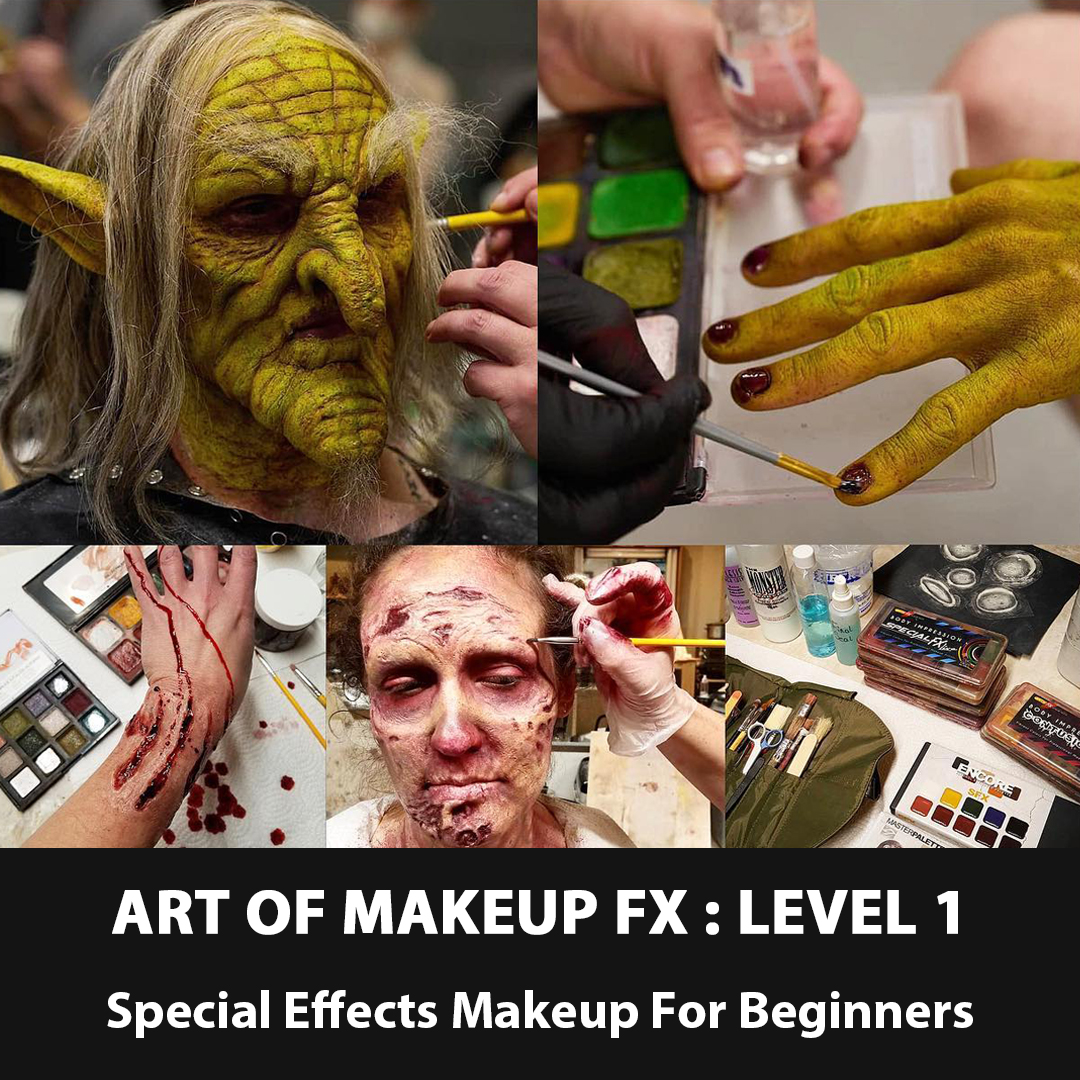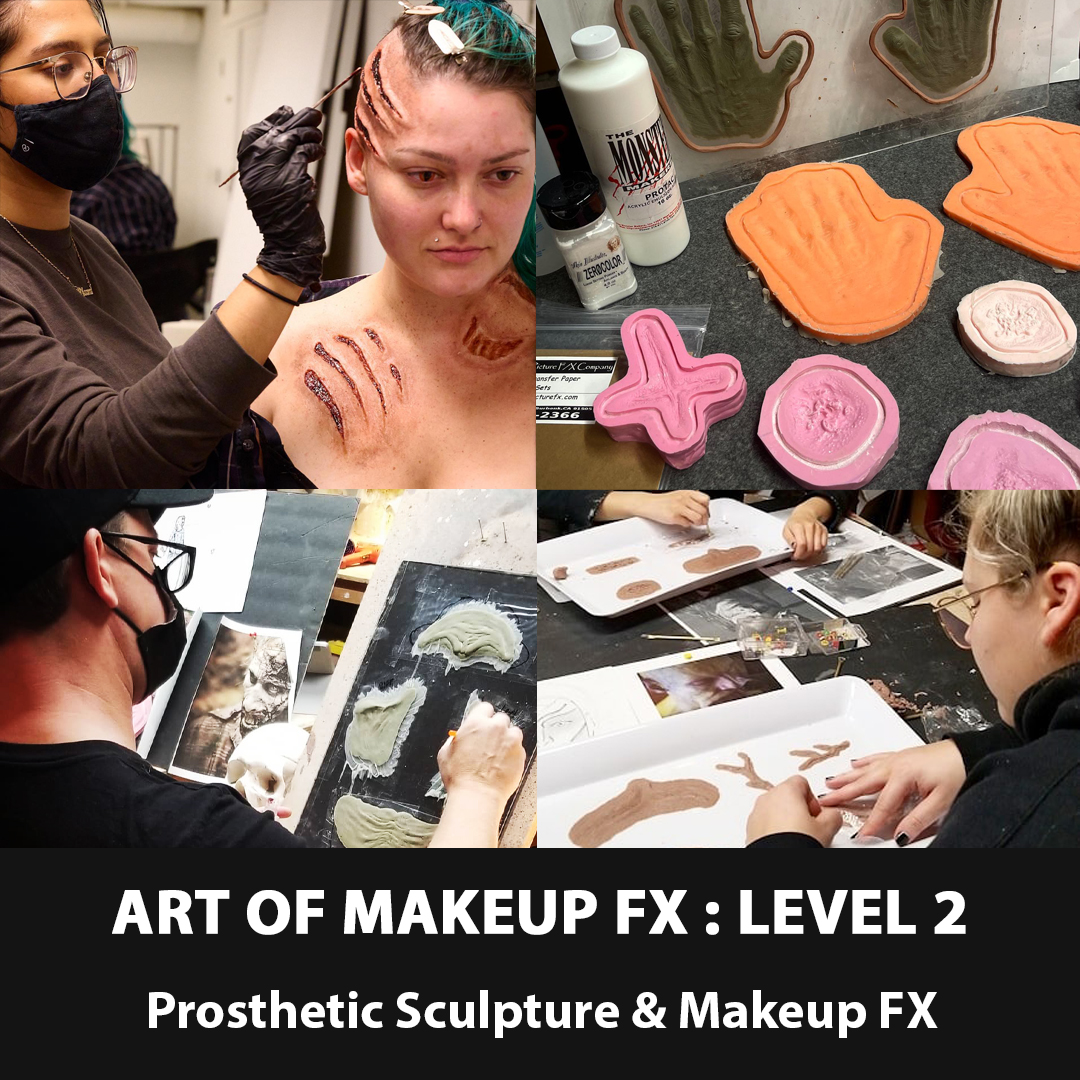 Art of Make-Up FX: Level 2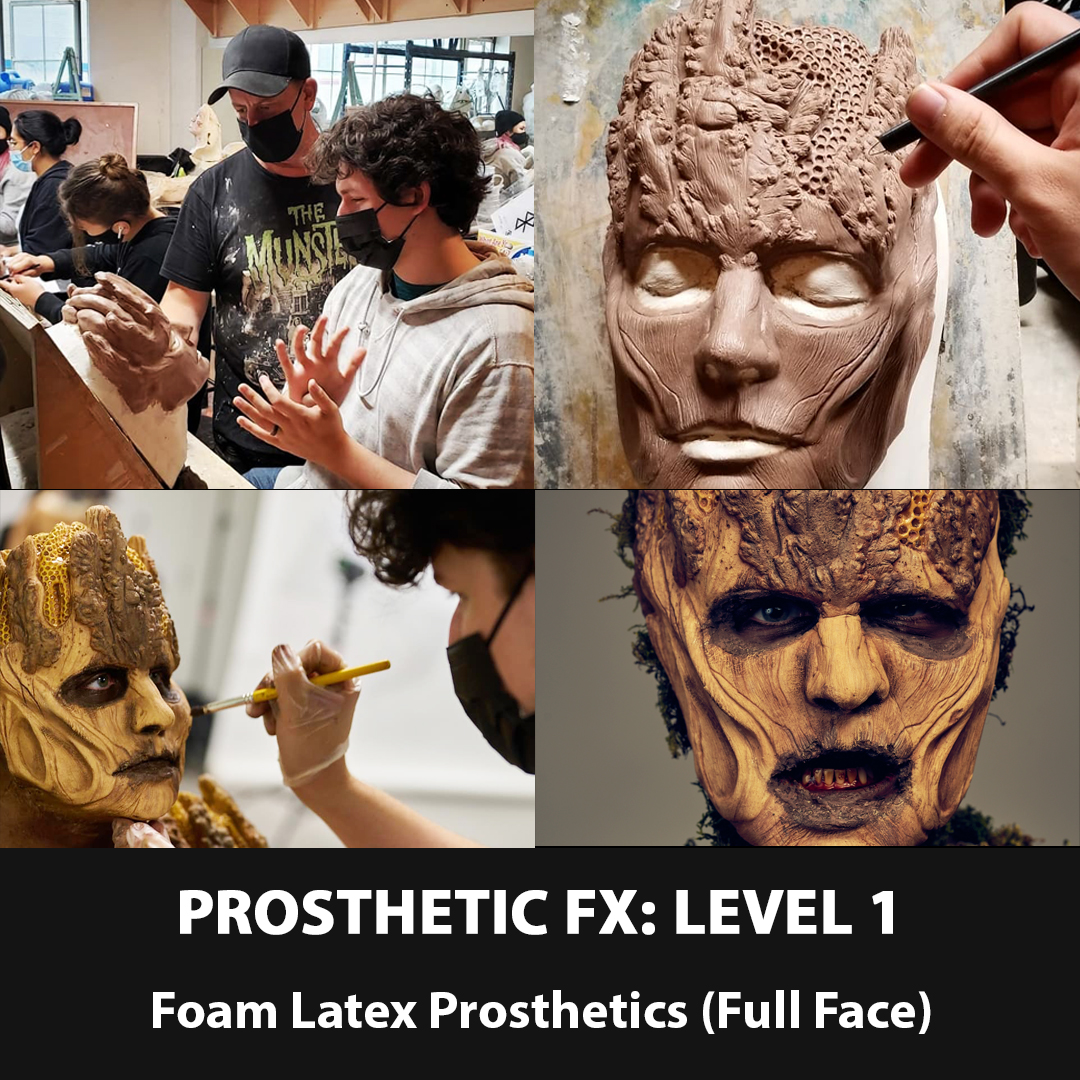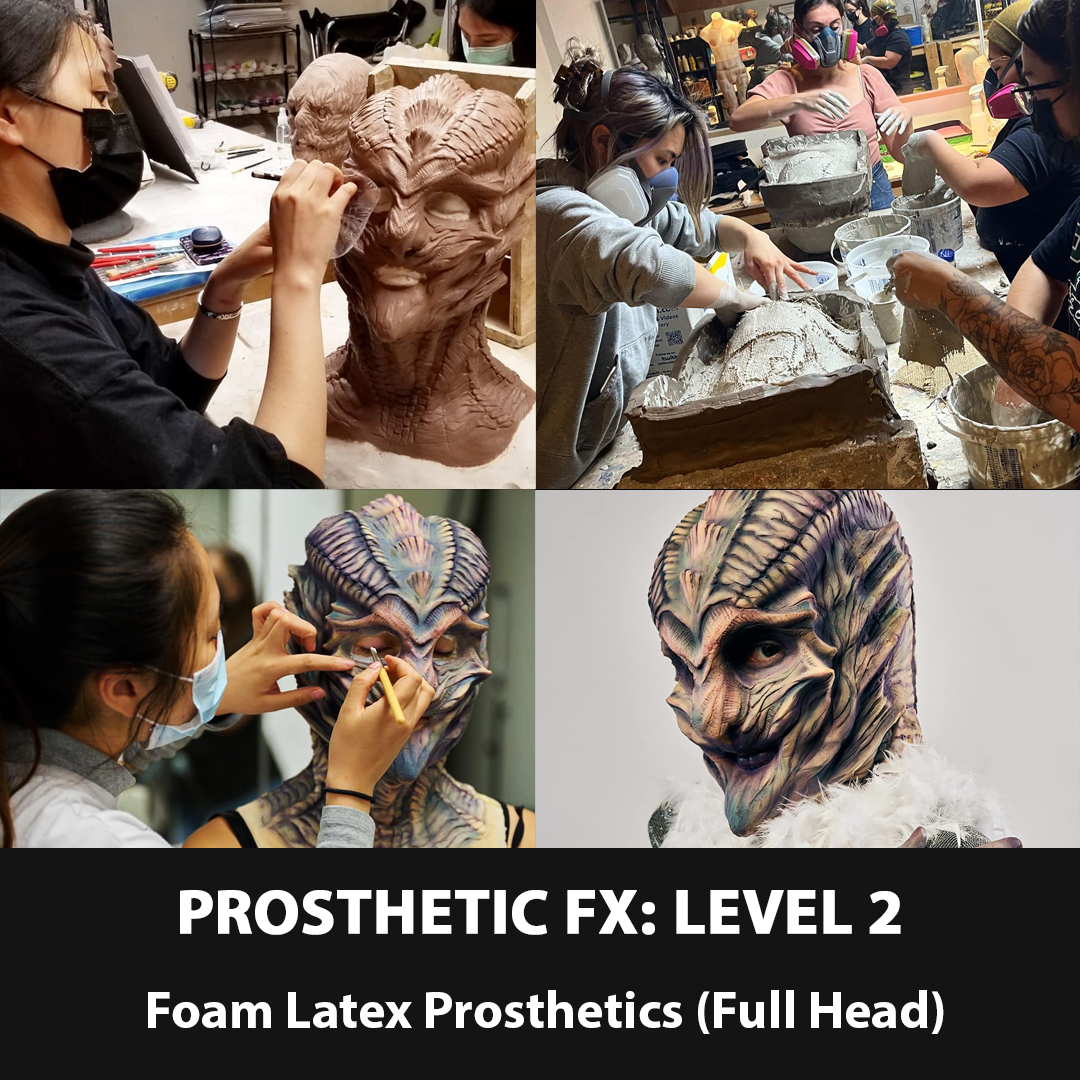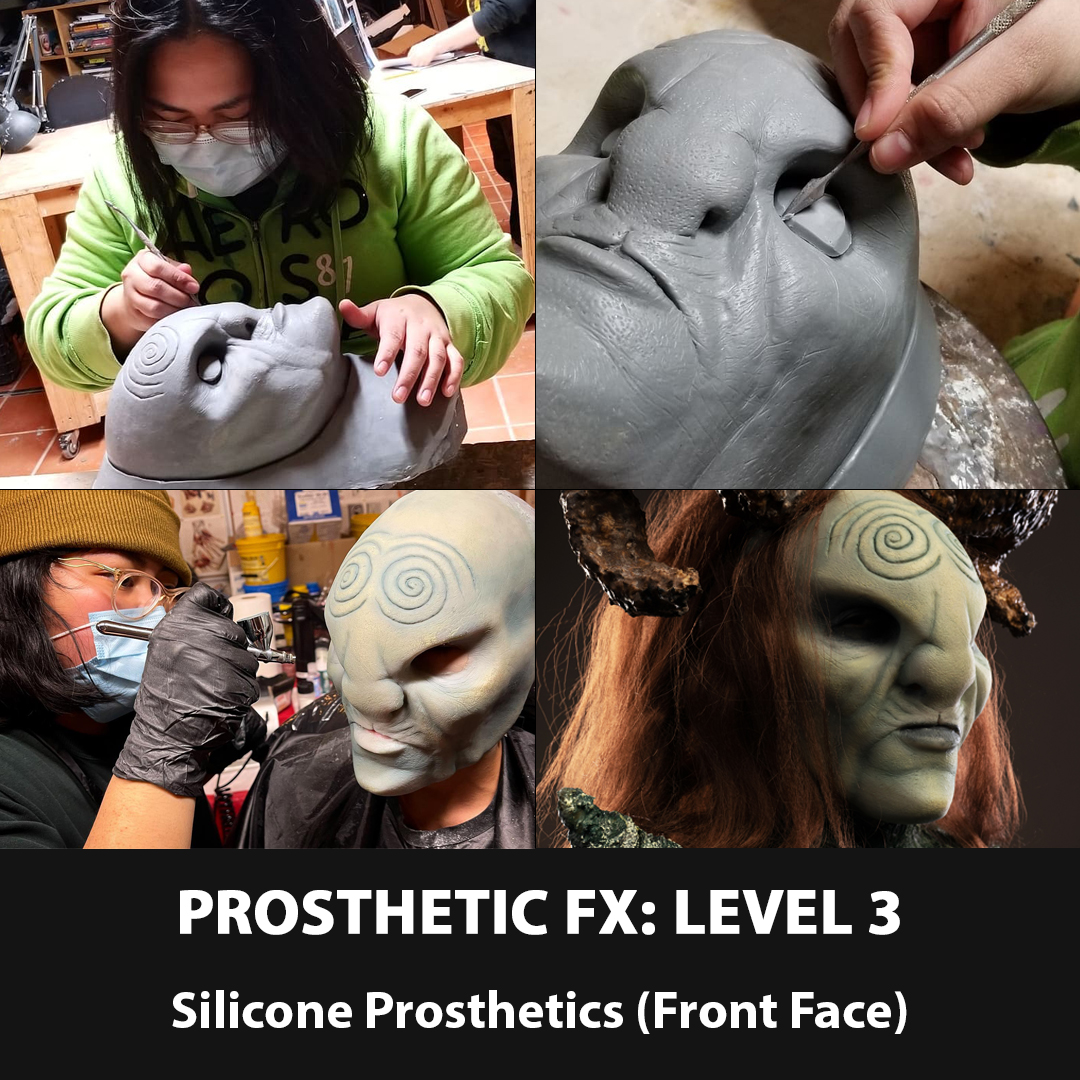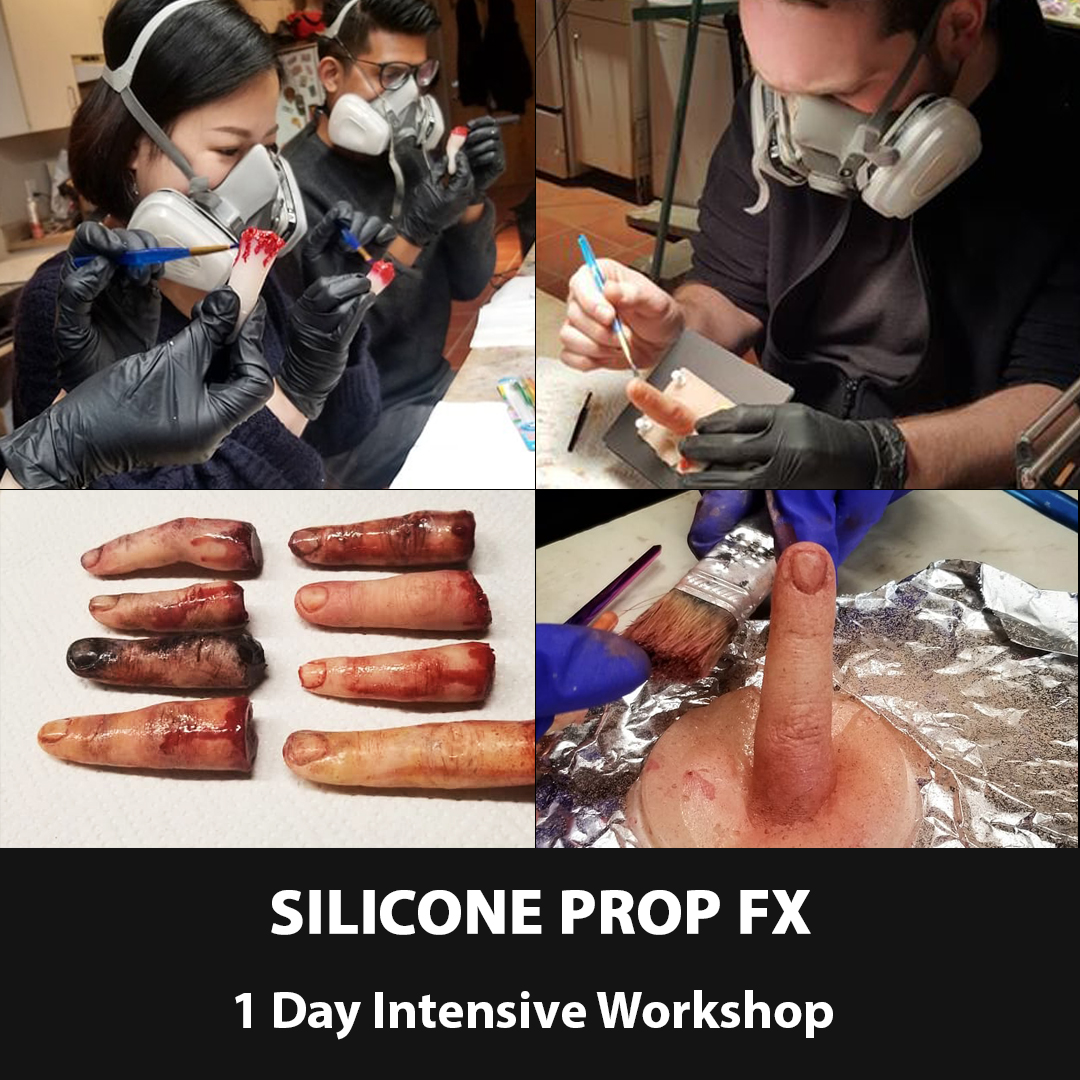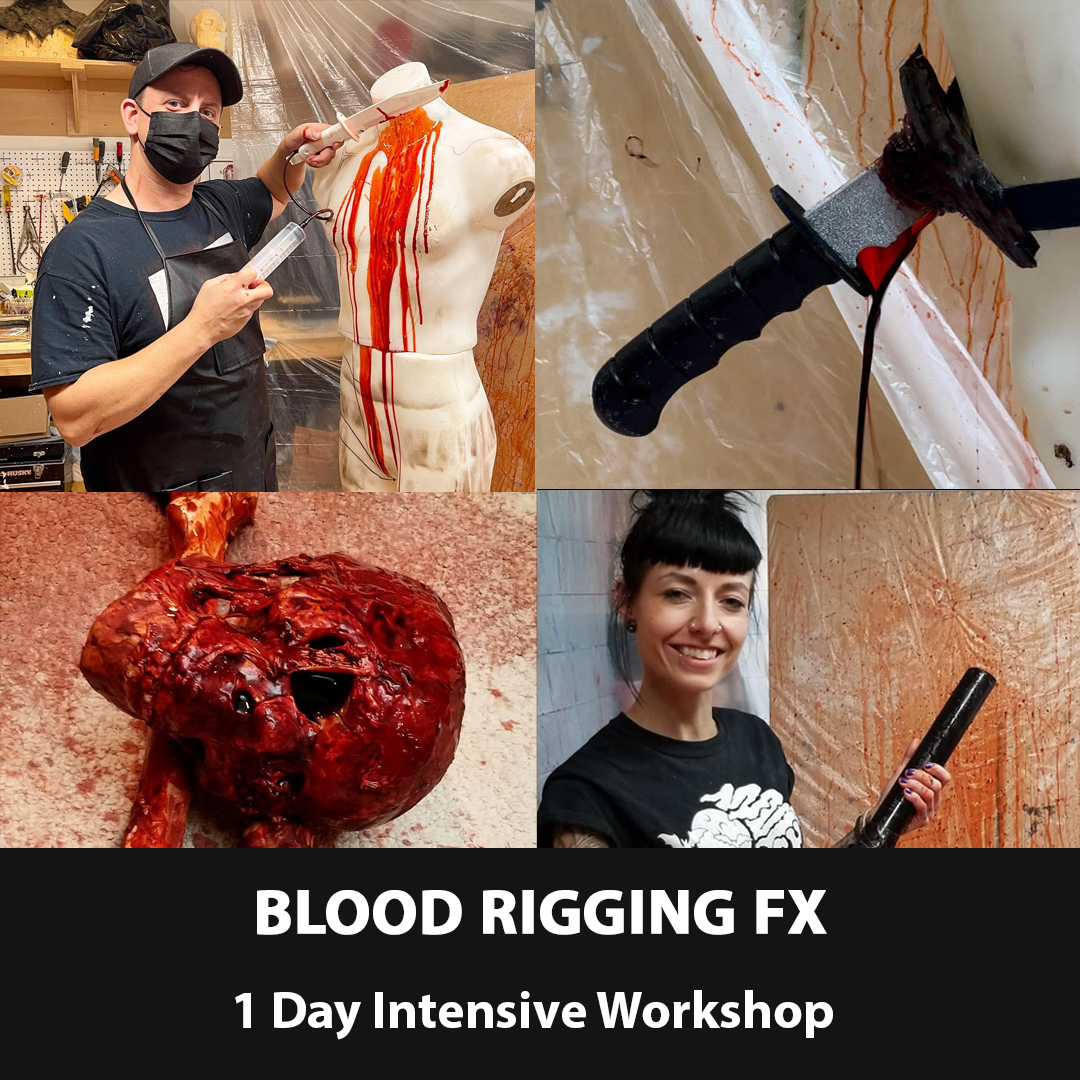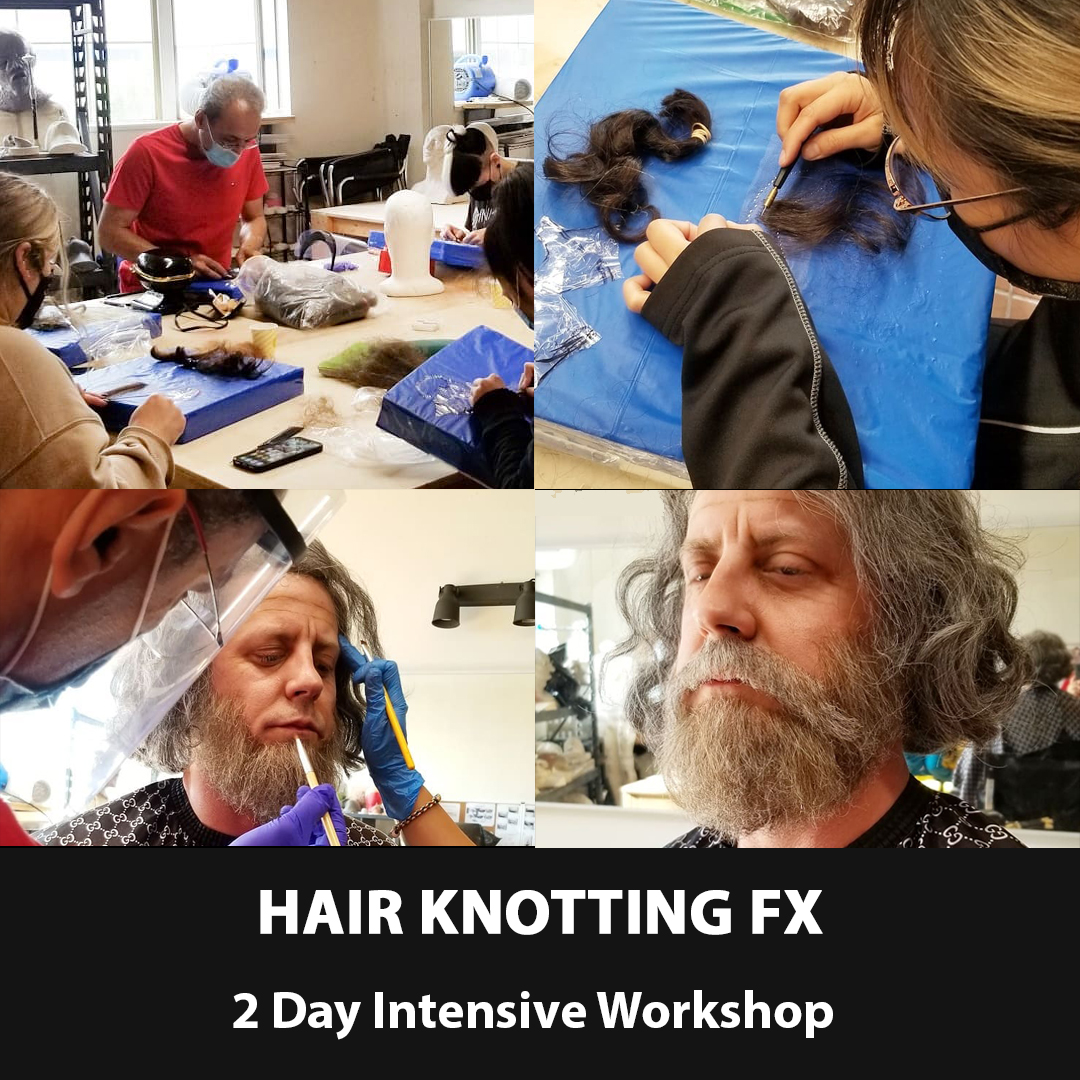 Brendan A.
Definitely highly recommend. Dallas is pro, hes a great teacher and an awesome person. I attended a mask making course, learned a tonne and had a great time!
Patrick W.
I've worked with Dallas and this studio for years now. Top quality work! I've watched the classes and level of instruction over the years and seen students flourish! It's a great way for students to get to work on real projects and experience what the deadlines and expectations are like in the real world. I highly recommend working with these guys or at least taking classes.
Katt G.
My experience at Vancouver FX has been fantastic. Dallas definitely takes pride in his students' work and allows them to work at their own pace. It's a friendly and relaxed learning environment that has allowed my creative side to flourish. Not only did I find Dallas' classes helpful, but when I signed up for more classes he gave discounts based on the fact that I was a previous student. With my continued interest he also offered some real world experience working on movie sets and in studio volunteer work. I would highly recommend vancouverfx to anyone interested in getting into special fx makeup, or anyone who needs some kind of creative outlet.
Alisha S
I started at Vancouver FX a little over a year ago. In this last year I have learned and experienced so much more then I could have imagined. Dallas is a wonderful teacher providing us with a welcoming creative space where we can really flourish as artists. 7 years ago I went to makeup school and since then had given up my dream of being a special fx makeup artist and was headed down the wrong path. Being at the studio has really helped me get back in track with my dream of being a special fx makeup artist. I've had hands on experiences in the studio and on set in the TV and film industry doing what I love! Dallas has been an amazing mentor to me and has always shown that he really cares for me and his students and making sure they have all the skills to make it in the industry. I highly recommend taking classes from Vancouver FX because I know I'm extremely happy I did
Sara C
I have taken many classes at Vancouver FX Studio over the past few years, and Dallas is easily one of the most patient, professional, and personable teachers I have met in all my years of (post secondary) education. His passion for his work is sincere and genuine, and he truly wants to help others learn his craft. You could not hope for a more fun and thorough learning environment.
Nicoleta C.
I would highly recommend! My experience at Vancouver FX has been an enriching, creative outlet. I've been taking numerous classes there for almost a year now. I have learned so much from Dallas and he has helped build confidence in my creative abilities. Not only is he an extremely talented artist (just watching him sculpt something within minutes leaves me in awe) but a great teacher with so much knowledge and patience. Dallas is very encouraging and provides his students the proper guidance and techniques to create incredible creatures. If I couldn't quite figure out a technique, he'd find other ways to explain it or show me, always making sure I got it. That's something not a lot of teachers do. He wants to make sure his students leave fully understanding the techniques. Dallas also prides himself on making his studio an inviting and supportive working space. I've always felt very comfortable working on my sculptures there and other students feel comfortable giving constructive feedback, too.
Megan L.
I've attended several classes at Vancouver FX Studio including the Acrylic Teeth Class and the Silicone Prop Class. Dallas is both a patient and thorough instructor and is always happen to answer questions. He provides valuable information about the industry including cost saving tips when purchasing supplies. He is always reworking and developing his skills to ensure he is teaching classes that are up to date with the industry standard. I HIGHLY recommend his classes for both aspiring FX artists and professionals working in the industry looking to improve their skills.
L Chan
Amazing hands on experience for learning in the field. The one on one training Dallas provides during the course sessions really makes ones passion grow. You learn so much without feeling like your in school. Your creativity is not limited when your in his class, and I can guarantee you will be inspired to do more once your on board the Vancouver FX train!
Chloe S.
Previously I had already dabbled in prosthetic and SFX makeup but my time here as Dallas's student has only proved that there is always so much more to learn. I mainly signed up to his courses to get back in touch with my creative side but ended up with so much new knowledge that so many of my skills were brought up to the next level. My eyes have been opened as to how many opportunities there are out there as well. The studio itself has such a pleasant atmosphere. It was the highlight of my week going somewhere just to be surrounded with so much inspiration and fellow creative people. Dallas himself absolutely loves sharing as much knowledge as you can bare to take in, is always happy to answer any and all of your questions and is super patient. I highly recommend Vancouver FX to anyone wanting to learn new skills, grow already existing passions or who even just want a creative outlet
Gabby B.
I highly recommend FX classes at Vancouver FX! I've been taking classes there on and off for over two years and I'm so happy I found this place! It's a really fun environment where I've been able to grow as an artist. I've learned to make masks, foam latex prosthetics, silicone transfers and out of kit fx makeups. After makeup school for beauty I was looking at lots of different schools to upgrade to FX makeup and I'm glad I chose this one. Vancouver fx is up to date with the latest movie fx and there is always new courses to expand your portfolio. Dallas is a fantastic teacher and I have learned so much from him! He is really easy going, light hearted, and lively but will also set you up for success in this industry and will help push your work to the next level. I can tell he really cares about his students and puts in a lot of work to help us succeed. He has made a fun and supportive environment in the studio which is welcoming for all students. Definitely a 5 star here!
Chantal C.
Dallas is an incredibly talented instructor. He's very thorough and informative about the importance of technique, and ensures that all pieces turn out beautifully, every time. He allows his students to work at their own pace but also pushes students to their up most potential to create things they didn't think possible. I've been there for the better part of 3 years and fully recommend taking classes here. When I started I had no idea what I was doing, and now feel like I'm on the road to learning how to be a professional effects artist and sculptor. I know that in the future I can count on Dallas for further tips and feedback on anything I work on.
Debby G
VFX is the best thing that has happened to me since moving to Vancouver! I can't say enough good things about Dallas, he is kind, generous person with so much knowledge to share. Dallas has a very gentle approach and really coaches an artist through the process of bringing their creature to life – from conception to application. As a student at VFX I benefited from witnessing the problem solving required by this make-up team to complete their own professional film work. Dallas really stresses the importance of having reference material at every step of the process and using nature as a springboard for inspiration. Safety and the sequence of appropriate steps is constantly being reinforced as other students complete their projects and through the current film projects that Dallas is working on. The environment at VFX is very laid back, but everyone works very hard, and the energy and excitement that students and instructors bring to class every week is infectious! I am so happy to have found Special Effects Makeup and the VFX team, I look forward to learning more about the technical side of the field and growing as an artist in this varied and ever changing art form!
Kait D
Taking classes at Vancouver FX Studio has made a dream I never thought could come true possible. I am extremely thankful for everything the classes have taught me. I have become a much stronger artist and have finally found a career that I can have fun doing. Not only have I gained skills and knowledge, I have also made very strong friendships and connections. I recommend these classes to anyone, whether you want to go into the industry or are just curious, I can assure that you will have a blast.
Michael H
I started taking classes with Vancouver FX Studio several months ago. Dallas has been exceptional, he has gone above and beyond my expectations as an instructor. Under his direction, and with his assistance I was able to mold and complete my first mask. I would not be where I am today without his feedback and guidance. Dallas lives the lifestyle of a production artist. I've seen him complete dozens of film production works in my time with him, his breadth and depth of knowledge is invaluable for any aspiring production artists. This is not your typical class with theoretically useful lessons, this puts you right next to a motivated and driven professional performing his craft on a daily basis.
Echo C
Through Vancouver FX classes, I was able to learn many sculpting techniques that were not taught in my Makeup Artistry program. The classroom environment is very fun and easy going; you can tell that everyone is happy to be there, comparing ideas and talking about industry related topics with people whom share a genuine interest. Some of my closest friendships where made at my time at Vancouver FX Studio. I have taken several of the classes, and intend on taking more to continue upgrading my professional portfolio.
Danielle A
I took the Character Sculpture class to improve my organic sculpting skills and I could not have made a better choice. Dallas is a fantastic teacher and his passion for sculpting and anatomy is infectious. My sculpting has improved dramatically after taking this class and I can't wait to take another one!
Dai T
I'm really happy to have come to Canada and taken classes at Vancouver FX Studio. I took almost every class from Introduction To Special FX Makeup, Prosthetic FX class , airbrush class and teeth workshops. I learnt a lot of things such as how to sculpture, how to make a mold, etc ...and the airbrush class is really helpful for me when I came back to Thailand . I have a good time with all my classmates, specially my teacher Dallas, he is an inspiring teacher. Many thanks to Vancouver FX Studio. I hope to comeback there one day soon.
Alisa M
My time at Vancouver FX Studio was Awesome! The instructors are very talented and professional as well as a lot of fun! I came out of the class with a lot more knowledge then I expected and really excited to start using my new skills in my work. I would recommend Vancouver FX Studio to anyone who wants to gain new skills or sharpen up what they already have. Even if your a newbie, don't be afraid, these guys will turn you into a pro in no time!
Connie C
Vancouver FX Studio was a great way for me to further explore my interests into different areas of sculpting. They covered a wide range of techniques and made it very informative and comfortable for a newbie like myself to get started! Drop-in classes are so fun to meet other sculptors and I always felt welcomed to ask as many questions as I needed.
Sandy J
I've always wanted to learn how to sculpt human figures and characters... Vancouver FX Studio was the perfect place to learn. The relaxed atmosphere is really fun and the helpful instructors have a great sense of humor. The classes are also a great place to meet other talented artists while working on my sculpting skills.
Ravenna M
Working with Vancouver FX Studio gave me the chance to work with a new medium and explore different ideas using their experience and knowledge. I learned a lot and am really happy with the piece I created. I also really enjoyed the easy going atmosphere; I had a lot of fun and can't wait to go back.